Unfamiliar Territory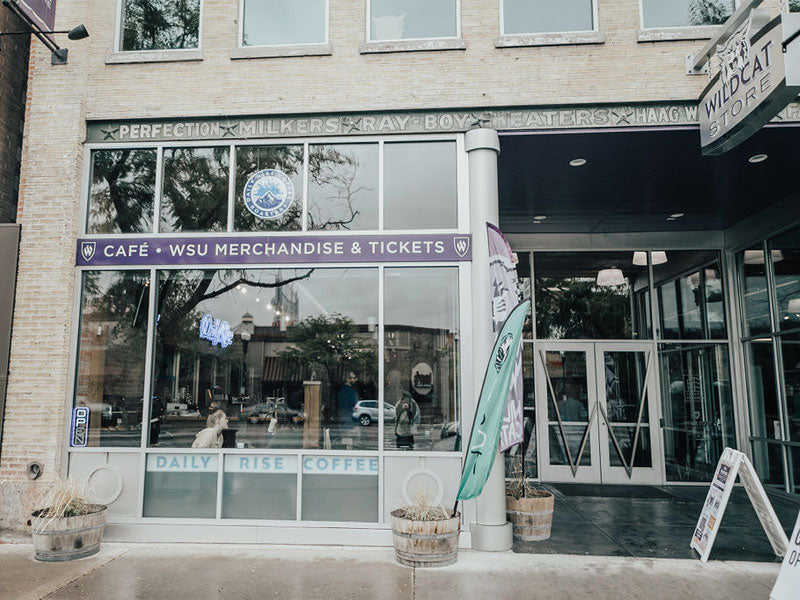 In October 2018, we found ourselves with a challenge and a mission… to help bridge the gap between Weber State University and the University's Downtown home located at 2314 Washington Blvd.  The inside café is now home to our 3rd retail location, as well as the home for our first café- Daily Rise Downtown.
As I sit inside the café, sipping a coffee and my black diamond kombucha from the tap, I still, almost 2 months later, have to pinch myself that this is a Daily Rise! After hustling and bustling and running  from window to window between our two double sided drive-thrus for the last 14 years, it feels strange to drink a cup of DR coffee within the cozy, warm café which looks out to the face paced, increasing busy Washington Blvd district. I crave something savory with spice and then I remember we have not found our niche yet within the "café food club." I quickly jot down "food" on my to do list and hope that we get this figured out soon. This was always an aspect of the coffee cafe setting we didn't feel passionately about, yet here we are with visions of edibles jumbling our brains... (I don't know yet what that yummy new addition is for sure, but I can tell you, it's gonna be good.) 
Unlike our drive thrus in which every spare minute feels full, a fun chaotic craziness, I can envision this little cafe with the same true DR vibe. But for now,  we think positive, and use the extra time to showcase our custom tap handles, as well as our delicious, unique loose-leaf teas options and utilizing the space to highlight pour overs featuring our different single origin beans.  While there is so much good coffee in the downtown Ogden scene, and our presence by no means is meant to take away from these coffee friends of ours, the simple hope is to feel a true partnership with our local University, as well as to help aspire new entrepreneurs, college students and fans to collaborate and use this unique historical building as it was always meant to be.  
I have to add that in addition to the Weber State store, we have some awesome, hip partners within our building, (And She's Dope Too and Ogden Made) whose brands and "cool factor" within the ever-growing outdoor enthusiasts is booming!  As a community team, we wear the local brands with pride, and share their mission of truly loving where we work and play.