Think Positive. Be Positive. Live Positive.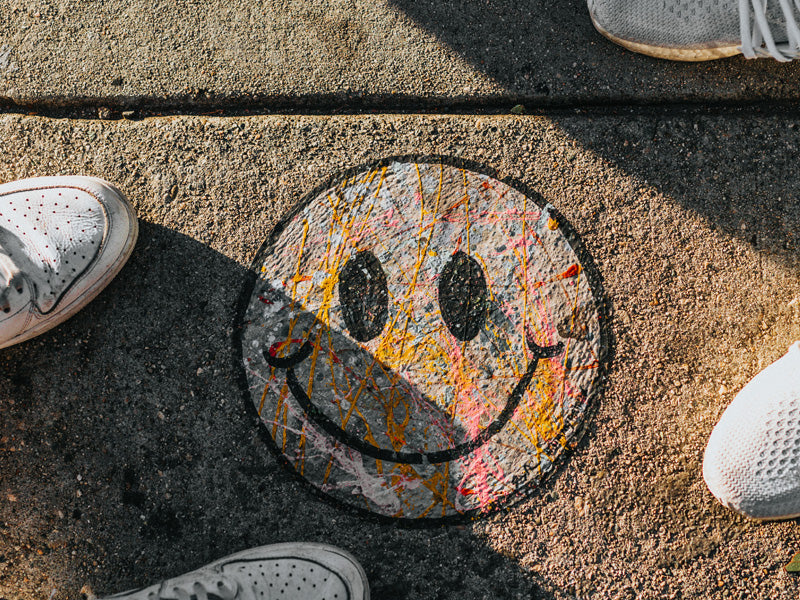 Written by Cindy Reinhard
Anyone who has been around us for a minute knows we here at Daily Rise Coffee have made promoting positive energy our mission. We know first-hand the power of a positive outlook when it comes to living a good life. Positivity is
literally tied to benefits
like better psychological and physical well-being, lower levels of distress, pain and even depression.
Why does this matter? Because April is Stress Awareness Month and we do not want our friends to be overwhelmed by stress! Here are a few practical ways - in no particular order - you can de-stress and promote positive energy to yourself and those around you.
Do something creative. Sing, knit, sketch, throw a pot, draw chalk pictures on the sidewalk - anything to help slow you down and relieve some pressure.
Get outside! We might not be sure if it is still winter or spring, but thankfully we can still play in both. (Keep reading for a couple of ideas on how to do that very thing!)
Keep a journal. Our downtown location is a perfect place to grab your favorite cup of coffee and spend a little time reflecting on your own thoughts.
Learn mindfulness and meditation. Try yoga or check out some apps to help you pause, take some deep breaths, and reorient yourself to what is most important.
Practice gratitude. Spend a few minutes at the end of each day to remember the moments that filled you with joy, peace, and maybe even love.
Speaking of gratitude, April 22nd is Earth Day. So in addition to the steps listed above, here are a few more ideas that combine de-stressing with fun ways to celebrate Mother Earth!
Try cooking or baking a new recipe using local fruits and veggies.
Go on a nature scavenger hunt.
Create a piece of art using only what's already in your house!
Plant a seed, sprout, flower, or a small garden in your backyard.
April is going to be a great month! Spring is coming and there is so much to see or do! You are probably wondering: where can you find DRC out and about on the Wasatch front this month? We'll tell you.
This year's Winter Running Series wraps up this weekend with the Half Marathon. Like always, we'll be out there with coffee and cocoa to keep you warm! We are so proud of these runners who have shown up in freezing temps and wind gusts, battling hills and getting in their miles. They've cheered and encouraged each other as well as celebrated one another's successes. It has been an absolute blast to partner with the GOAL Foundation and others to support these runners! Well done to all!
Snowbasin Ski Resort is launching a Spring It On! event series which kicks off April 1st with a
Spring Showdown rail jam!
Open to any and all skiers and riders who want to throw tricks alongside the pros! Huge prizes for those who come out on top! Join us to enjoy the fun!
Following the rail jam a couple weeks later is the
9th Annual Pond Skim!
Wrapping up the month, Snowbasin will be holding its first
Closing Day Basin Bash
- an 80s-themed party headlined by The Breakfast Club, a notorious 80s tribute band.
Check out the links for more info!
Bean of the Month - Papua New Guinea
This month we're excited to bring you the bean that started it all! Our Organic Papua New Guinea bean is buttery caramel and graham cracker deliciousness in a cup. It is the foundation of all that makes Daily Rise who we are. Good all by itself, you will recognize it as the base of our Wilderness and Ogden City Blend. Be sure to get some!

To get your 15% off, enter BEANOFTHEMONTH when you checkout online OR get 30% off when you sign up for our Bean of the Month subscription! Then you never have to worry about running out of coffee! (Talk about a great way to destress!)

Whether it is connecting on the sidelines at races, on snow-covered slopes, or chatting at one of our locations - we are grateful to be a part of your lives.

So when you need a pick-me-up, we are here with a friendly smile, kind words, and some coffee goodness in a cup.

- Your Daily Rise Coffee Family