Fuel Your Day: Coffee, Crepes, And Breakfast To Go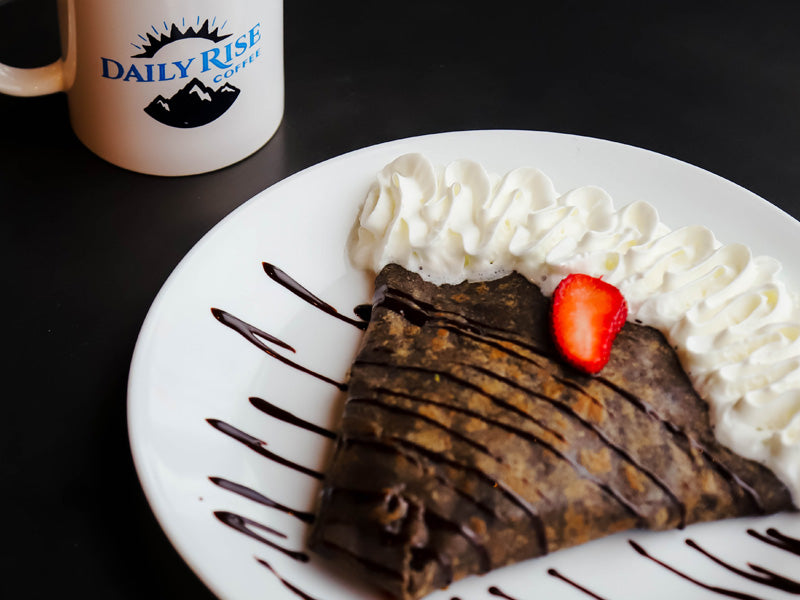 A robin is whistling a tune outside your window.
You open your eyes.
The sun is just peeking up over the mountains. It's another beautiful day in Ogden.
You stretch, roll over, and check your alarm.
7:02.
Phew. You have just enough time to meet up with your hiking group and hit the trails before diving into the workday.
So you jump out of bed, throw on your gear, and grab the car keys. There's no time to make coffee – and there's really no time for breakfast, either. 
Luckily, Daily Rise Coffee is on your way to the trailhead, so you make a quick stop in for a drip coffee to-go. As you wait for your drink, you glance at the breakfast menu. 
A caprese crepe sounds delicious, but you're short on time. You notice yogurt parfaits and overnight oats have been added to the menu since your last visit. And they're waiting in the fridge, ready to go.
You opt for the overnight oats, intrigued by the blueberry coconut flavor combo. The barista cheerfully adds it to your order, hands you a steaming cup of coffee, and wishes you "happy trails".
You thank her and head out to meet up with the crew for your morning adventure.
You're energized, fueled, and ready to go.
Kicking Your Cafe Breakfast Up A Notch
Here at Daily Rise Coffee, we love helping you power through your day – whether you're meeting friends on the river parkway or hitting the slopes. And we want you to be fueled not just with great coffee, but with amazing food that pairs perfectly with the day's activities.
So if you've been by any of our coffee shops lately, then you've probably noticed our breakfast menu expanding a lot.
Crepes are a longstanding favorite for our customers. Our breakfast burritos were born out of the pandemic. And now we're super excited about our fresh yogurt parfaits and overnight oats, so our customers have an easy, grab-and-go option.
And as an added bonus, our overnight oats are:
Vegan

Gluten-Free
So there's something for everyone to choose from.
We're so excited about how this has grown over the years. But we definitely couldn't do it alone. 
And maybe you've been wondering who the mastermind is behind our breakfast menu.
Get ready to meet Michelle, the talented chef at Daily Rise Coffee, and Ogden's own "Crepe Lady".
Here's the story of how our paths crossed.
Ogden Farmers Market Friends
Daily Rise Coffee has been a small business vendor at the Ogden farmers market for over a decade. 
One summer at the market, Michelle was our neighbor a few booths down from us. She moved from Seattle to Ogden a few years before to work as a wildland firefighter. After she hung up her firefighting hat, Michelle started running a crepe booth at the farmers market with her husband.
This turned out to be a fantastic setup for everyone involved. Customers could grab a cup of coffee and then order a crepe just a few steps later. And as we got to know Michelle, we really liked each other's vibes.
We weren't really looking to start a partnership together, and it didn't happen overnight. But it did happen very naturally.
Coffee And Crepes: Better Together
Fast-forward 9 years, and Daily Rise was still going strong at the Ogden farmers market.
But after years of juggling a full-time job and her crepe hobby, Michelle was feeling burnt out. So in 2016, she decided to take a break from running her booth at the market.
Ogden wasn't having it, though. "Where's the Crepe Lady?" customers asked us all the time as we filled their coffee cups. 
We missed seeing Michelle, and we knew that our coffee-crepe combo was a hit with our customers. We really wanted to provide the local community with a quality food menu along with our coffee.
Then we happened upon the Ogden downtown location. 
So we shared the exciting news with Michelle and asked if she wanted to be a more permanent part of Daily Rise.
At first, Michelle wasn't sure she was ready to start a partnership with us.
It would mean leaving her job and making a switch. And she was worried that making her crepe hobby her full-time gig would take the fun out of it. But after giving it a lot of thought, Michelle threw in the towel at her old job, and teamed up with us to pursue her crepe-making passion.
It was the perfect set-up. We could finally offer our customers breakfast with their coffee – in a beautiful historic building in downtown Ogden.
Today, crepes are a staple at Daily Rise Coffee. It's hard to imagine a cup of our coffee without a savory morning creation from Michelle.
Breakfast Burritos For The Win
If you've stopped by one of our drive-thru locations, odds are you've grabbed a breakfast burrito (or two) with your morning coffee. 
Michelle's one of the masterminds behind these yummy burritos.
When March of 2020 hit, our sit-down location had to close down, so we turned our focus to our drive-thrus. We really wanted to add food to the menu so we could continue fueling the local Ogden community.
Crepes are delicious, but they're hard to eat on the go. So after a little brain-storming with Michelle, we started stocking our drive-thrus with fresh breakfast burritos. Customers were able to grab their drinks and a bite to eat – even if they were in a rush.
As you might have already guessed, our breakfast burritos turned out to be a hit. So once we were able to open our cafe again, the burritos became a permanent part of the Daily Rise Coffee breakfast menu.
We're so excited to be able to give our customers quick, easy options.
Easy Breakfast On The Go
When you're out and about at an event in beautiful Utah, you probably don't want to:
Spend time in line

Wait for your food

Sit down and eat it 
You want to be where the action is.
And we don't want you to miss a moment of the excitement.
So about a month ago, we decided to give our Ogden coffee-lovers a more mobile breakfast option. 
Michelle was inspired by the idea of yogurt parfaits. She nailed down a delicious concoction, freshly made with:
Yogurt

Strawberries

Honey

Cinnamon

And granola
Next in line were our overnight oats. We wanted a gluten-free, vegan option. So Michelle helped us craft a tasty combination of:
Oats

Chia seeds

Coconut milk

Maple syrup

Cinnamon

Blueberries

And toasted coconut
Our yogurt parfaits and overnight oats are the perfect addition to the Daily Rise menu. They're quick, portable, and delicious. 
So you can enjoy a tasty breakfast – without missing out on any of the fun.
Start Your Day Energized
Over the years, our breakfast menu has evolved. And we owe a lot of that to Michelle.
Michelle loves being an active part of the local community and being able to share her talent as a chef. And she loves providing quality food and customer service to the people of Ogden.
Because of our partnership with Michelle, we're happy to offer not only hand-crafted crepes, but also fresh breakfast burritos, fruit and yogurt parfaits, and tasty overnight oats. So whether you're:
Sitting down to a delicious crepe

Stopping by our drive-thru before work

Or grabbing a bite before hitting the trails
…we're excited to be a positive part of your day.
And if you see Michelle on your next visit to Daily Rise Coffee, be sure to say hello. You're in for a big smile, some friendly conversation – and delicious food.
We think you'd agree that things couldn't have worked out better.