3 New Products Released at Ogden Farmer's Market 2020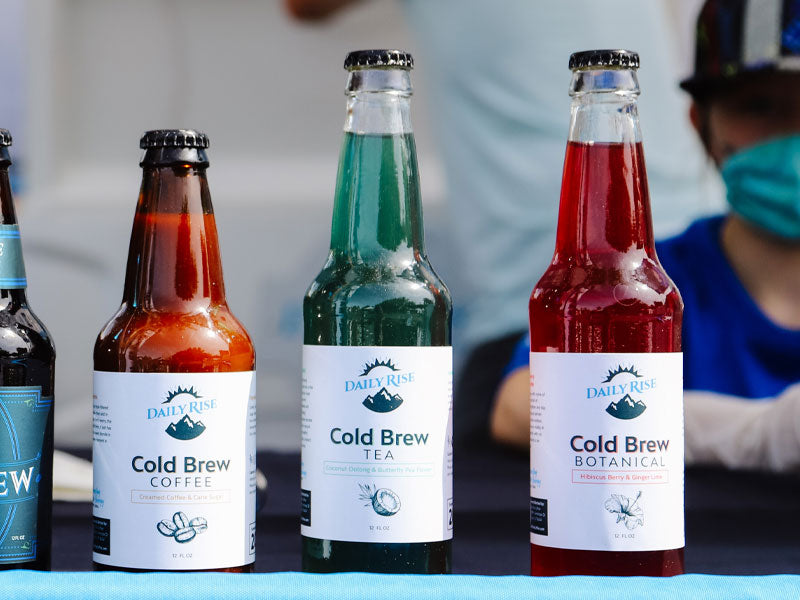 When we got the news that we were part of the Ogden Farmer's Market, but it was going to be a different market this year, one with no drink preparation, minds and imagination went into development mode.  Fast forward to June 20, 2020, the first Ogden Farmer's Market, The Daily Rise introduced 3 new bottled products to test out! These will be only available at the Market at this time. Here is the low down. 
Sweet Blonde - this is our Classic Cold Brew with an amazing twist- we added Cream and Sugar!  It has all the caffeine of our classic, but just added some "friends" in order to create a sweet finish that makes it easy to consume & LOVE!  
Cold Brew Tea - Coconut Oolong and Butterfly Pea Flower.  This energizing Bao Zhong Oolong has been a Daily Rise favorite since we first brought it in.  The Butterfly Peaflower was a bonus in order to create a brillant aqua color as well as a brain healthy adaptogen. Why not?
Cold Brew Botanical - This is our Hibiscus Berry Ginger Lime which is naturally sweet (no added sugar) caffeine free, and tantalizes the taste buds and allows you to enjoy all day long. We wanted a product for kids to enjoy as well as those that are naturally energized and not looking for the extra boost.