Fun in the sun in Utah!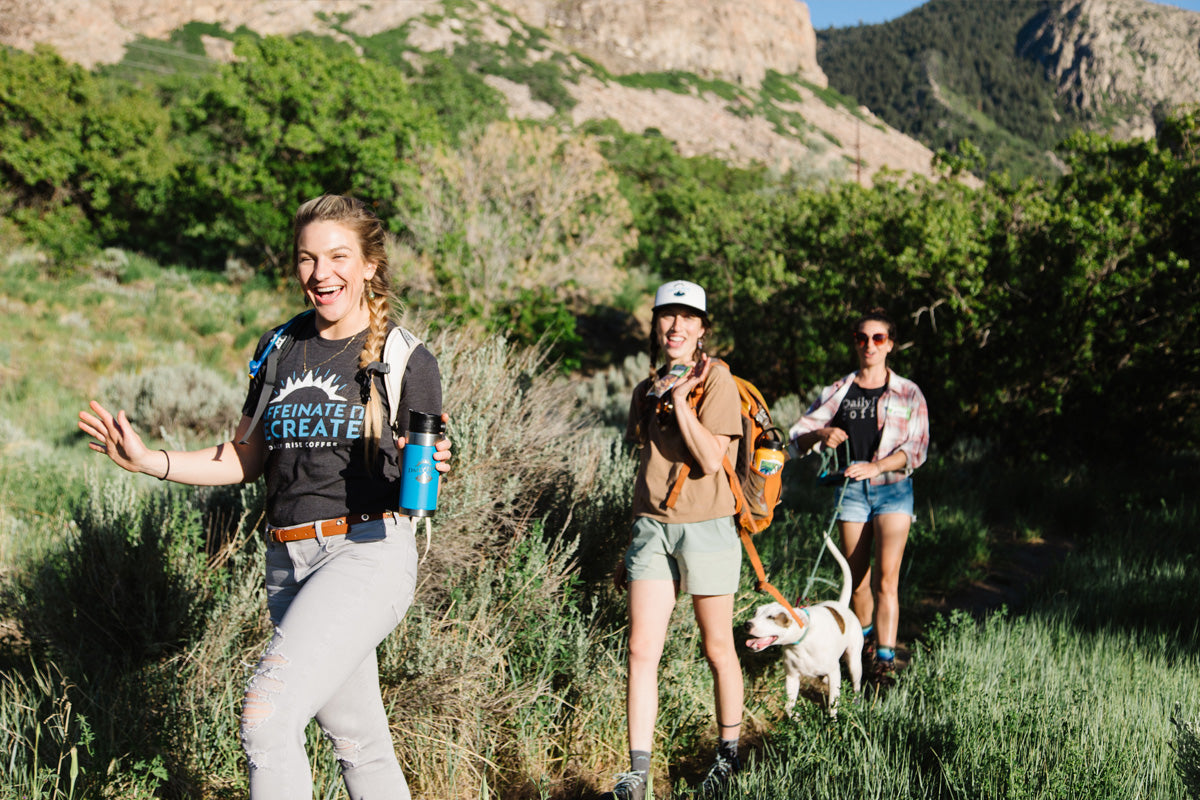 Summer so far has been a blast - the weather has been perfect, people are out and about, and we are taking advantage of the many ways to enjoy our neck of the woods. If you haven't made it down to the Farmer's Market, you are missing out! Grab an iced coffee and enjoy all the best Ogden has to offer - incredible produce, treats and eats, buskers, and entertainment.
Saturday mornings on Historic 25th Street is the place to be! Don't miss out!
And speaking of not missing out: Snowbasin's Blues, Brews, and BBQ is underway! Spend Sunday afternoons enjoying the mountain view, great food, delicious beverages and musicians from around the state and beyond! It's a great way to round out the weekend!
Daily Rise PSA:
All of our locations will be closing early on Sunday, July 23rd
for some much needed Daily Rise Team time!
Be sure to grab your favorite drink early that day!
July wraps up with two of our favorite summertime trail events up at Powder Mountain! You'll find us at both slinging our coffee, cold brews, and refreshing ice tea on tap!
First, Wildflower Outdoor is back with their annual women's trail and pedalfest. A great way to ease into the sports of mountain biking and trail running, this is a non-competitive experience with events for all ages and skill levels! There is still time to register for the July 22nd event - so be sure to check that out. Or if you are more the encouraging sort, come and spend the day cheering on the ladies and chilling with us!
Last but not least, the El Doce Endurance Mountain Bike Race is coming up July 29th! The GOAL Foundation's premier bike race is in its sixth year. Registration is still open for those wanting to learn new skills or challenge your current skills. Join in as an individual, pair or team with 6 and 12 hour events available to those ready to test their mental and physical strength!


We hope you have a safe and wonderful holiday weekend. If you are sticking around the area, our friends at Visit Ogden have gathered a list of celebration events and fireworks displays for you to enjoy!! Stop by and grab a pick-me-up to keep you recreating into the night!

If you don't yet, be sure to follow us @dailyrisecoffee. You'll get the latest news, deals/discounts, as well as where you can find us and your favorite coffee all month!
INDEPENDENCE DAY SPECIAL
Have you had a chance to try out our Cold Brew Beans? If not, there is still time! Get 10% off everything sitewide! Enter the code: 4THOFJULY when you checkout online. Or get 30% off when you sign up for our Bean of the Month subscription and never run out of beans again!

Happy July!
- Your Daily Rise Coffee Family